BUCCERI HYBRID
New Solution!  New Machine!  Amazing Performance!
The Snow Hybrid makes snow in 2 ways.
In minus temperatures the Bucceri Hybrid operates like a conventional Fan Gun.
In Plus temperatures the Bucceri Hybrid operates like an ice machine making the perfect quality snow.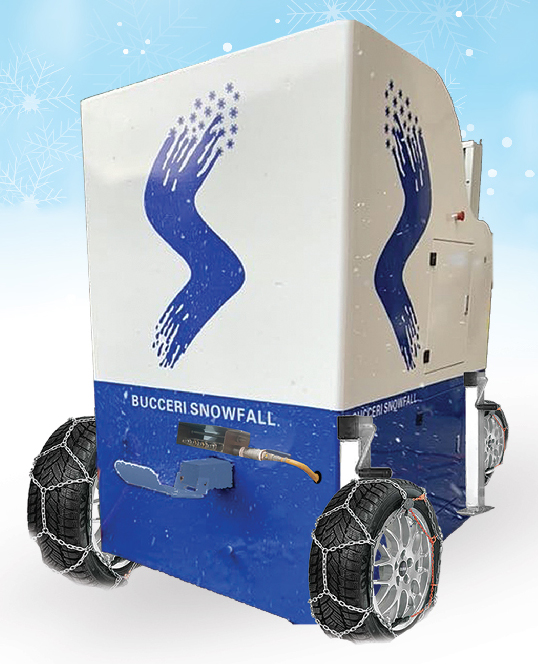 Introducing the New Bucceri Snow Hybrid
Existing ice making solutions do not satisfactorily solve the problems caused by global warming and have limitations in capacity, snow making costs and mobility.
The new Bucceri Snow Hybrid is the solution!
2 proven technologies combined into 1 machine that can make more snow and at a cheaper cost at the key snow making temperatures.
Fully Automatic, just connect to existing water and power. The machine is the same size as a fan gun and operates using the same services installed at most ski resorts in the world today.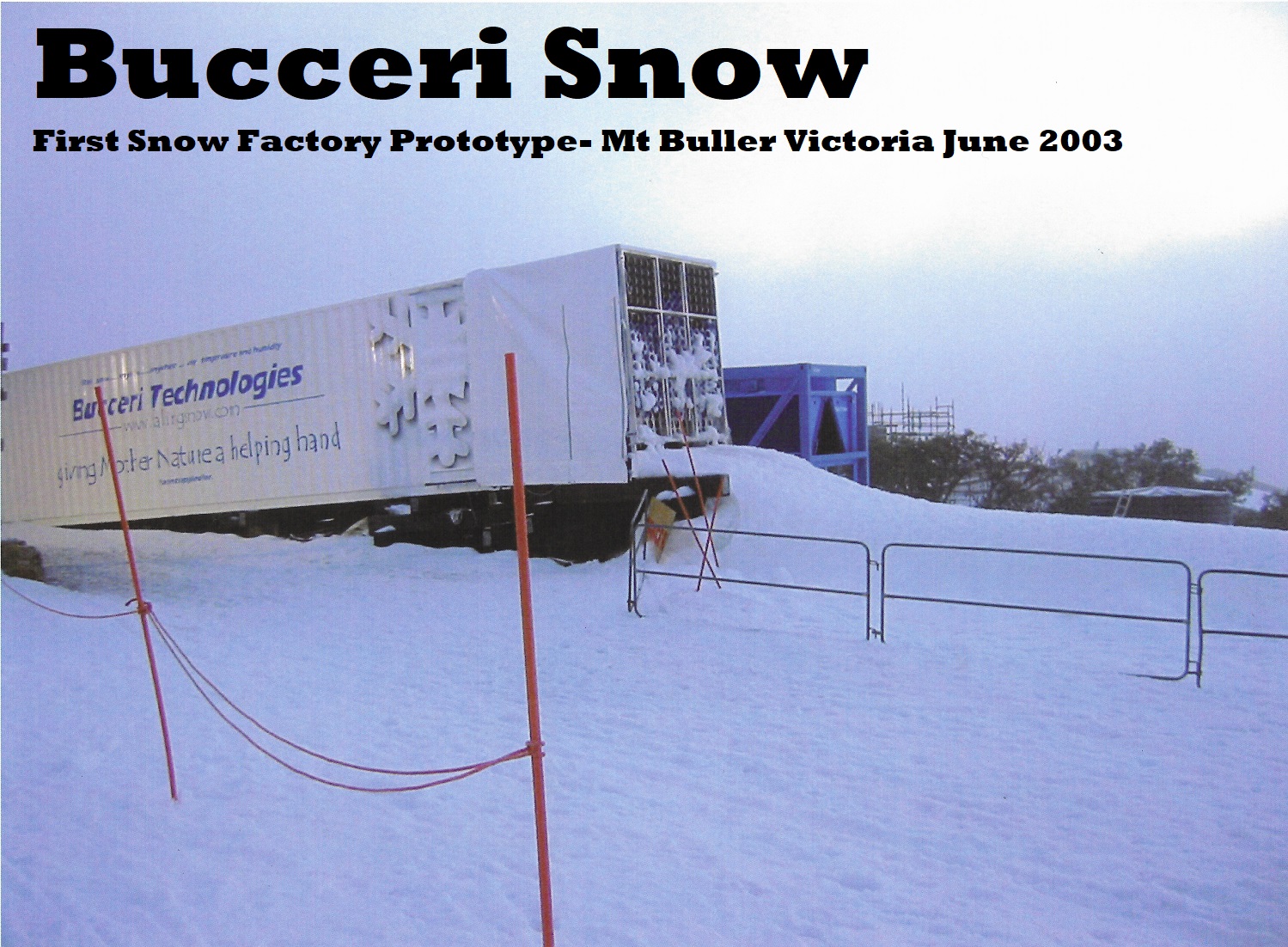 From Snow Factories to Snow Hybrid-2003 to 2020
In 2003 we commenced testing of a ski resort snow making machine and installed our first Containerised Snow Factories model at Mt Buller in Australia in 2003
The ice making development continued and the Snow Factories product was born. Our latest Snow Factories style  product has been installed and used successfully at ski resorts to guarantee opening days. This form of ice making product has  been sold by other major snow making companies and is now widely used at major ski resorts..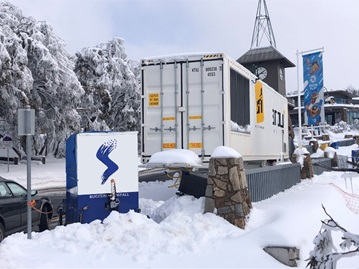 Bucceri Hybrid for Ski Resorts
Innovative technology:
The Snow Hybrid is compact and mobile and much smaller than a containerised snow makers.
See the Patent Pending Bucceri Hybrid Operate at Marginal Conditions above.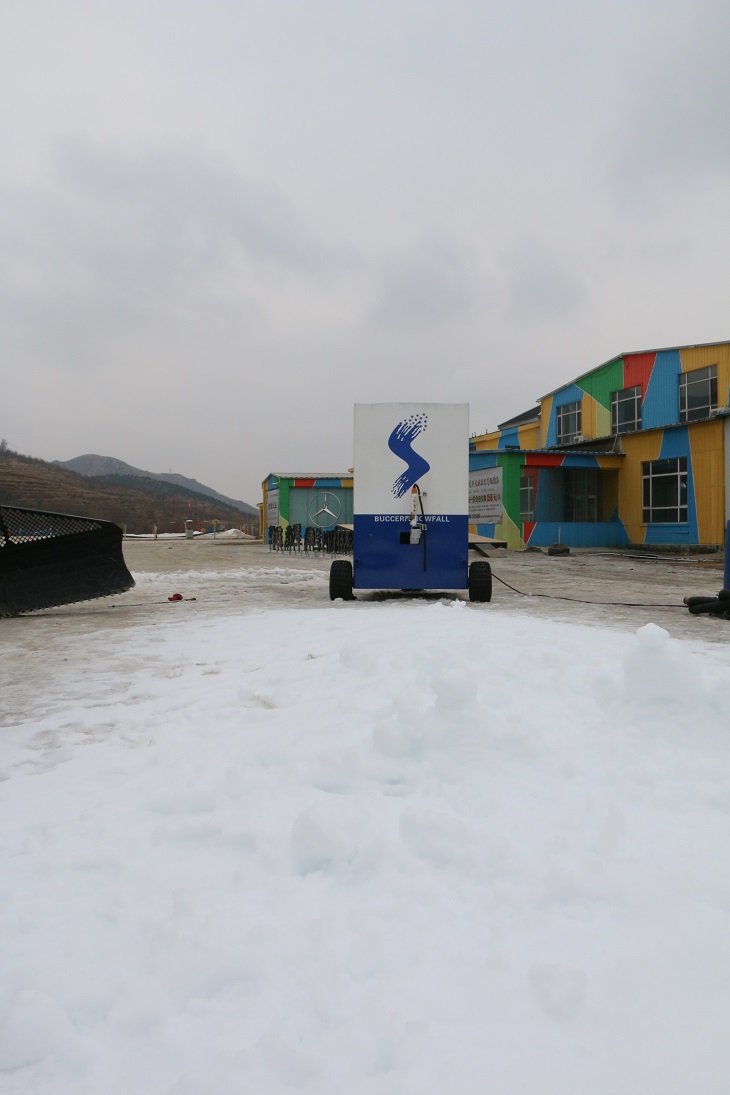 The Bucceri Snow Hybrid outperforms any ice making or snow making machine on the market in the critical temperatures around zero Degrees Celsius and can make snow at a fraction of the cost when compared to an Ice Making Sytem.
The Bucceri Snow Hybrid fall will make snow for snow at any temperature!
Just plug in to power and water and go!
The Bucceri Hybrid makes ice seeds that can be programmed for use in 2 ways!
The Bucceri Hybrid is 2 machines in 1. At all temperatures the refrigeration unit installed in the Bucceri Hybrid will make ice seeds that are used in 2 ways.
At temperatures from 0 degrees Celsius to PLUS 40 degrees celsius these seeds are grown and created to be blown to the ground as snow using the same principles as a Snow Factories sytem.
In temperatures below 0 degrees  Celsius these seeds are grown to be blown and mixed with atomised water to make snow using the same principe of a conventional snow gun.
Contact us for more information!
The Bucceri Hybrid is affordable, mobile and must have addition to meet the challenges of Global Warming. Contact us now to find our more.
Patents World Wide since 1984