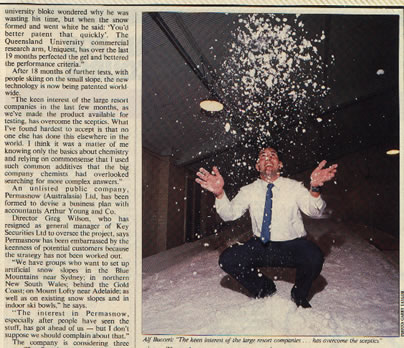 Our Story
Bucceri Snow Making has been involved in the development of new innovative snow making technologies for Indoor and Outdoor Ski related projects over the past 30 years and in 1985 created the then, new concept called Indoor Ski Centers and promoted it in Australia, Europe and Asia.
The company's principal Alfio Bucceri was instrumental in the development of the year-round 'Indoor Ski-Center' business, which can now be found in over 40 multi-million dollar developments throughout the world.
The first Indoor Ski-Centers built in Europe, Japan, the Middle East and Australia all opened using his Technology and concept that he developed and in 2009 the first FIS sanctioned World Cup Race was contested in an Indoor ski Center in Europe.
He was the Executive Chairman and the major shareholder of the publicly listed Permasnow Company and was instrumental in concluding multi million dollar sales of the technology for the company.
Mr Bucceri is the inventor, product developer and previous owner of the Chill Factor and Slushy Magic product range that are sold through outlets such as Walmart, Target, Woolworth and other major retailers around the world.